Quicksand poll wrap up
May 13th, 2012 by Larry
Thursday, January 5, 2012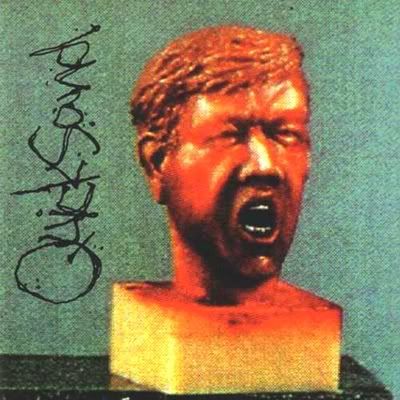 This Quicksand poll wrap up is long overdue and I apologize for leaving the poll up for an eternity. There was a plan set in place to have a guest do the wrap up, but that never ended up panning out. The result was me ignoring the poll and letting it stagnate into oblivion. I've finally decided to take matters into my own hands and simply wrap it up myself. I know, pretty novel idea hah?
Can't say I was necessarily surprised by the results, "Slip" pretty much kicked the living hell out of the other two releases. That said, my vote went to the self titled 7″ on Revelation. I can remember vividly when that 7″ was released and I recall hearing it for the very first time and just how blown away by it I was. I loved what Walter had done with Moondog, so essentially, Quicksand was a revised and more progressive version of Moondog, so I was definitely into it. I guess since the self titled was my introduction, I always felt a stronger connection to it. I also liked the idea that the 7″ was released on Revelation, which felt completely natural and maintained that inclusive, family type vibe.


With the "Slip" LP, although I think it's a great record and might possibly have a few of my favorite Quicksand songs on it ("Dine Alone", "Fazer", "Can Opener" and "Too Official"), the whole vibe of it being a major label release always left me feeling like someone spilled the beans on a best kept secret. Quicksand fans went from being maturing Warzone and Youth Of Today fans to poser mall punk kids with massive center parted hair cuts, that had no idea what Revelation Records even was. That said, Quicksand was still an incredible band and "Slip" was still a phenomenal album, even with Walter asking himself if everything was ok.
Why "Manic Compression" doesn't get as much love as "Slip", I'm really not sure. I think it's a pretty equally incredible album that's actually heavier and harder than "Slip", but I think the newness and exciting element of Quicksand had started to wear off by the time of this release. Either way, I still love it and "Brown Gargantuan" is another song that's added to my top Quicksand song list. I mean, how can you possible go wrong with "You're a child, you're a dad, a mother, you mother fucked yourself again", lyrics? Some of my favorite Walter lyrics ever. – Tim DCXX
Quicksand – "Slip" LP – 143
Quicksand – Revelation 7″ – 83
Quicksand – "Manic Compression" LP – 41